Guided Tour
HotelHotel is a new way to find and reserve hotels online. It offers travellers both a guide de recherche, and a price comparison tool: two resources that naturally complement each other but have never been combined on one site until now. So, seen as this is new territory, let us take you on a guided tour…
A Guide to choose the right hotel...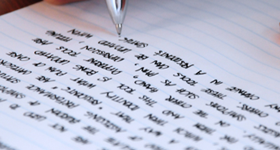 A team of professional writers
Finding a hotel online that meets all of your needs and expectations can be a long and complicated task. We're convinced that our team of professional travel writers will help you find what you're looking by giving reliable, adapted advice based on research and experience.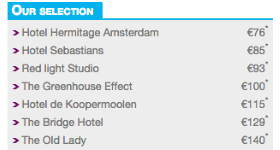 Adapted solutions for different types of traveller
Our authors study a range of common scenarios for different types of traveller (students on a budget, romantic weekends for two, businesspeople, etc.) to suggest the best hotels for your trip backing up their choices with facts, figures and customer reviews. Until now, it was only printed guides that offered this level of analysis.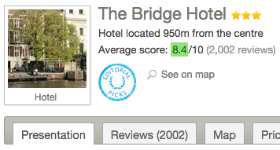 All you need in one place, on one page
By bringing together details from different booking sites, HotelHotel gives you a maximum amount of information about a hotel: its location, a description, photos, customer ratings, prices etc. We obtain our information from a range of sources and display it in a clear format, so you have less searching to do.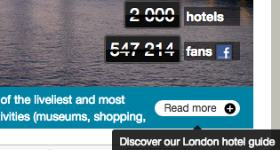 An accommodation overview for each destination
HotelHotel offers a panorama of the different accommodation available in a given area. We compound all of the information we receive on a destination to give an average room price, the total number of hotels, the number Facebook fans etc., giving you a broad picture of the hospitality landscape. Take the town of Sorrente on the Amalfi coast, for example, which has more hotels than Marseille, for 50 times less inhabitants!
... A price comparison to get the best deal...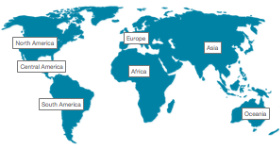 A vast choice of hotels across the world
By combining the catalogues of different booking agents, HotelHotel gives you access to prices and availabilities for more addresses. In France, for example, HotelHotel suggests over 35,000 accommodation solutions, whereas Hotels.com offers only 10,000…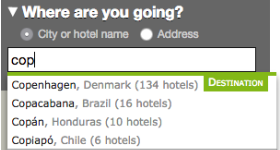 We're here to help and guide you
Finding a hotel on the web can be tricky. With so many possibilities, it can be hard to know where to start looking… But don't panic, we're here to make things easier! Using functions such as automatic suggestions, which proposes a list of possible search terms before you even finish typing a word, HotelHotel.com strives to make finding and booking a hotel as straightforward as possible.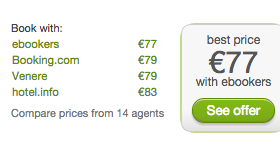 More savings
By doing a real-time comparison, of the availability and prices offered by the major booking sites, you can see at a glance which one offers the cheapest rate.. And it's definitely worth comparing: we find an average price difference of 14% between the cheapest and most expensive rates advertised for the same room!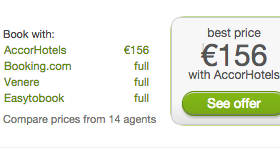 More availability
Booking sites rarely have access to all of a hotel's rooms. This means that one agent can say a hotel is fully booked while another offers available rooms. HotelHotel checks a hotel's availability with each individual agent and displays the results in a clear, transparent way.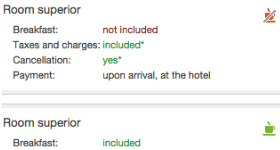 Breakfast included?
The displayed rates don't always include breakfast. An offer can appear more attractive before you add another £15 or £20 to the bill for your morning meal, so we always try to display exactly what the quote includes.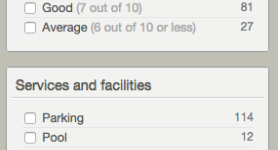 Filters to refine your search
If you're looking for a hotel with a pool, or you know from the outset that you don't want to spend over £80 a night, you can use our search filters to get the results you're looking for. Just click on "More options" in the search engine.
... And more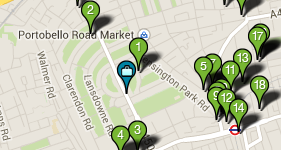 Search in proximity to an address
If you want to stay as close as possible to a certain location, you can enter an exact address in the search engine, (indicating the post code or the town/city) then click on "Find" to see accommodation in the immediate area.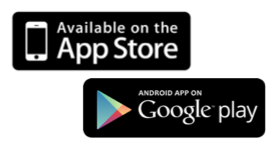 HotelHotel for Mobile
A mobile phone with internet access can be a life-saver! We've developed a smart, practical mobile application that you can download for free, to use on either iPhone or Android – a must if you're looking for a last-minute room!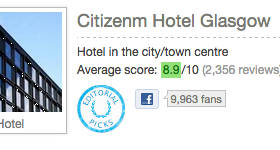 Facebook rankings
Some hotels have a huge Facebook following. We think that public opinion counts so decided to display the number of Facebook fans a hotel has, giving you another element on which to base your decision.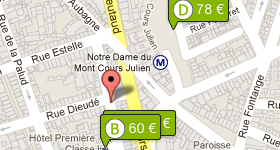 HotelHotel on your website
Are you organizing a conference, a festival or a wedding? Do you have a website where you want to show visitors the nearest available rooms and the best prices? You can do all of this with our widget!